Kitchen Cabinet Design and Installation in Alpharetta, Johns Creek & Throughout Georgia
We provide beautiful custom and replacement cabinets for Greater Atlanta homes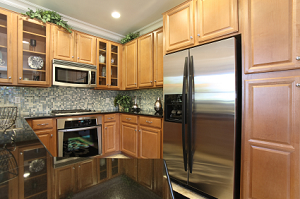 Customized cabinet installation allows you to take control of the design options you want for a specific area of your home, including style, color, material, and placement.
Kitchen cabinets are a crucial element of every kitchen remodel, and finding the right cabinets to provide the storage, function, and appearance you want can be challenging. If you're looking to upgrade your kitchen cabinets, the experts at Housworth Construction can help.
We provide both custom cabinetry for homeowners desiring a uniquely inspired look for their kitchen and cabinet replacement and refinishing for those who are happy with their current design. We offer a variety of styles, colors, and materials, allowing you to choose a quality option that will fit perfectly with the design of your kitchen.
If you want to learn more about the kitchen cabinet options we offer in Cumming, Alpharetta, Johns Creek and nearby, call us today to get a free estimate!
Custom cabinets add a personal touch to your kitchen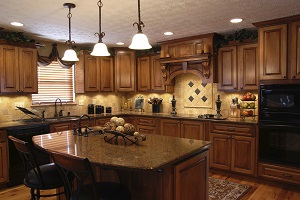 Create the perfect space. The right cabinet design allows you to get the appearance and function you need in your kitchen.
An original cabinet creation is one of the best ways to enhance the appearance of your home. These elegant and handcrafted designs can be constructed to fit the design of your kitchen remodel and give you exactly what you are looking for.
There are a variety of possibilities to choose from when installing your custom cabinetry. The first step is to choose the material and color that best matches the rest of your design. After that, we will design the ideal layout for your kitchen so that your cabinets fit seamlessly with your appliances, island, and other features. We can even recreate antique designs or build a unique, modern unit that matches the rest of your home.
Replacing or refinishing is a great way to improve the appearance
Our cabinet materials:
Multiple wood options
Laminate
Thermofoil
Fiberboard
Particleboard
While custom cabinets allow homeowners to completely design their own kitchen, they can be expensive. Additionally, many homeowners are perfectly happy with the current layout of their kitchen and simply want to update the appearance.
If that sounds like you, cabinet replacement or cabinet refinishing is a great option for you! Refinishing involves painting or staining existing cabinets to improve the appearance and match the design of the remodeled kitchen. Replacement cabinets are a great way to get upgraded materials and styles without changing the layout of your room. Housworth Construction can help you decide which option is best for your home.
Upgrade your kitchen cabinets with Housworth Construction today
Contact our remodeling professionals if you are interested in starting your own custom cabinetry project. We install replacement kitchen cabinets and custom cabinet designs in homes in Alpharetta, Cumming, Johns Creek, Suwanee, Duluth, Milton, Roswell, Berkley Lake, Buford, Peachtree Corners and nearby. Call us today to get a free estimate on all our remodeling services!
Looking for a price? Get a no cost, no obligation free estimate.