Bathtub & Shower Surrounds Installation in Georgia
Get rid of ugly bathtub & shower walls with a quality wall surround
Quality wall surrounds from Housworth Construction are:
Easy to install: Typically fitting right over existing bath or shower walls.
Low maintenance: Resistant to mold and mildew and non-porous for easy cleaning.
Guaranteed to last: Our wall surrounds come with a Lifetime Warranty.
Whether you are building a new bathroom or remodeling an existing bath, choosing the right style bathtub and/or shower is essential for the design. You want a tub or shower that looks great, is easy to clean and will maintain its appearance for years to come.
A crucial part of this design is the surround that you choose for your shower or bathtub. Housworth Construction can give your bathroom the updated look you desire with wall surroundings that can be installed over existing tub or shower stall walls, guaranteeing a perfect fit!
Contact us today to schedule your no-obligation bathroom design consultation. We offer free estimates for installing a bathtub and shower surrounds in Cumming, Alpharetta, Johns Creek, and the surrounding areas.
Find the right material choice for your bath or tile surround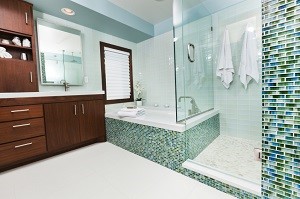 Tile showers provide a wide variety of colors and styles for a custom appearance.
The term "surround" is an appropriate way to describe the wall sections that enclose a bathtub or shower. These surrounding walls have a job description that goes far beyond what we expect from standard walls. A bathtub or shower surround has to stand up to soaking conditions day after day, without allowing moisture to penetrate into wall cavities or mold to grow on wall surfaces. Tub and shower surrounds also typically contain recesses and/or shelves where soap and shampoo can be stored.
Tile surrounds provide beauty and versatility
A tile tub or shower surround has come to signify high quality in bath and shower surrounds. Since you have the opportunity to select the tile colors, sizes, and patterns that suit your style, it's possible to create a one-of-a-kind composition when your bath or shower surround is built.
Tile tub and shower surrounds are a fantastic addition to any bathroom remodel, which is why they are so popular with homeowners. Although they come with a greater initial investment and some concerns about cracking tiles and grout, they are always a good choice for bathrooms.
Panel-type surrounds offer excellent value
For homeowners that prefer the durability and common-sense utility, panel-type surrounds are a great choice for bathtubs and shower stalls. Unlike a tiled surround, which is made from hundreds of individual tiles, a panel-type surround is made up of no more than several large wall panels that are designed to overlap and (in some cases) interlock, forming a near-seamless surface.
With panel-type surrounds, there are no grout joints to crack, admit water and support mold growth. Instead, you have thick, durable surround panels that direct water down toward the drain. The bottom edge of each panel overlaps the wall flange where the top edge of the shower base or bathtub is secured to the wall.
Panel-type tub and shower surrounds can be made from acrylic, fiberglass, plastic or thin solid-surface material. Surrounds are available to match common tub and shower stall sizes are offer a selection of colors and styles, including faux tile. Though the price, ease of installation, and durability are superior to tile, panel surrounds lack the same style, versatility, and quality finish.
A beautiful bathroom starts with our free design consultation
Housworth Construction offers high-quality bathtub and shower surrounds throughout Georgia. Schedule a consultation with one of our bathroom remodel specialists today to learn about all the styles, colors, and options available. We offer free estimates on all our bathroom remodeling services in Johns Creek, Cumming, Alpharetta, Suwanee, Duluth, Milton, Roswell, Berkley Lake, Buford, Peachtree Corners and throughout the surrounding areas, so call us today to get started!
Looking for a price? Get a no cost, no obligation free estimate.