Bathtub Refinishing Experts in Alpharetta, Cumming and Nearby in Georgia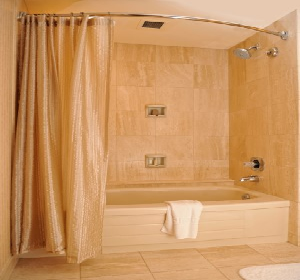 Refinishing will save money. Instead of replacing your bathtub, bathtub re-glazing can make your tub look like new.
Are you holding off on doing a major bathroom makeover because it's simply too expensive? Do you have a bathtub that's an eyesore because of its dated color or worn-out finish? If you answered "yes" to either of these questions, bathtub refinishing from Housworth Construction is a great option for you!
Sometimes referred to as bathtub re-glazing, this specialized refinishing process restores an existing bathtub to like-new condition, saving you the expense and hassle of tearing out and replacing your bathtub.
If you want to have your bathtub refinished in Greater Atlanta, call us today or click below to learn more. We offer free estimates on all our bathroom remodeling services.
A multi-step, high-tech refinishing process
Housworth Construction's advanced coating technology makes it possible to refinish tubs of all types, including fiberglass, acrylic, and traditional porcelain tubs. If your tub's original color is pink, blue or another pastel hue from yesteryear, don't worry; the new finish can be bright white or another more suitable color. We can even use this proprietary bathtub refinishing process on old-fashioned clawfoot tubs. In all cases, the bathtub stays in place, and the refinished tub is ready to use in just 24 hours.
A typical bathtub refinishing job begins with technicians protecting your bathroom with drop cloths and setting up a fan to exhaust dust and finishing fumes to the outside. Then they complete the following steps to refinish your tub:
Masking: Using tape and heavyweight kraft paper, workers completely cover all nearby wall surfaces, tub faucets, and other fixtures so that they won't be in contact with cleaning and finishing materials.
Cleaning & sanding: All the old caulk is removed between the wall and tub, then a special cleaning compound is used (along with a considerable amount of elbow grease) to remove soap scum, stains, and filmy deposits. The hand-sanding process that follows will "scuff" the tub surface to promote good adhesion of primer and finish coats.
Primer coat: The tub and bathroom are thoroughly vacuumed to remove dust and debris. Then a technician uses spray equipment to completely coat the bathtub with a primer that's highly adhesive. It's designed to chemically fuse with the tub surface and with finish coats.
Finish coats: Formulated with super-strong urethane resins, the finish is sprayed over the tub surface in several thin coats. The "new" tub can be used after the finish has cured for 24 hours. The refinishing process produces a glossy, uniform surface with superior resistance to stains, chemicals, impacts, and abrasion.
Tub surrounds, shower rods, and other makeover options
Saving money by refinishing instead of replacing a bathtub often enables a homeowner to have other work done for a more dramatic bathroom renovation. For example, this is the perfect time to install a new showerhead and new faucets. Housworth Construction can also provide improved bath surrounds or shower enclosures to give your bathroom a beautiful new look.
To learn more about the bathtub refinishing and all our bathroom remodeling services, call us today at 1-855-772-9178 or contact us online. We offer free estimates on all our work in Alpharetta, Johns Creek, Cumming, Suwanee, Duluth, Milton, Roswell, Berkley Lake, Buford, Peachtree Corners and the nearby areas.
Looking for a price? Get a no cost, no obligation free estimate.